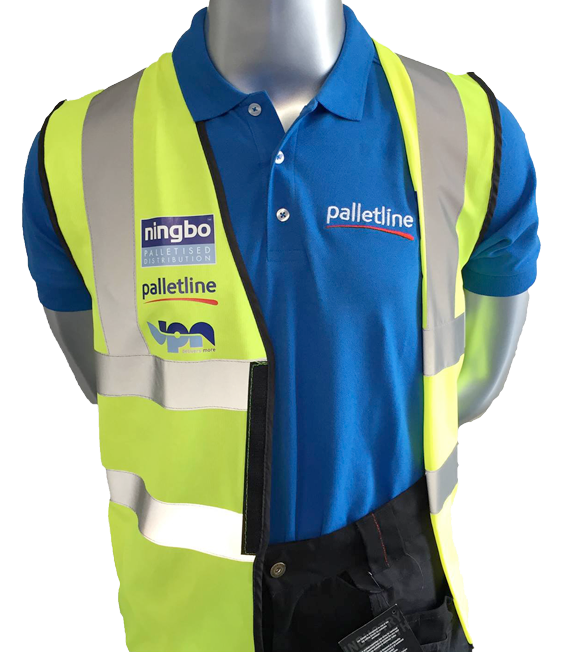 Embroidered Workwear | Branded Uniforms | Embroidered Polo Shirts
Embroidered workwear is now an essential part of the marketing mix. You may provide the best service in town, but if you do not look the part, people may presume you do not have what it is they're looking for. Take the photo of the mannequin (across the page) for example, the chances are you already presume this is a clean, fast and efficient service which is being offered by Mr Mannequin…well…you know what we mean! At Sarah's we aim to offer high quality embroidered logos and names, at reasonable prices, with a high standard of customer service. All of our embroidery is completed in-house, which allows us complete quality control over your garments and means we can keep you fully notified throughout the process. It doesn't matter where you are in the UK, you will find a quality personalised local service at Sarah's Embroidery.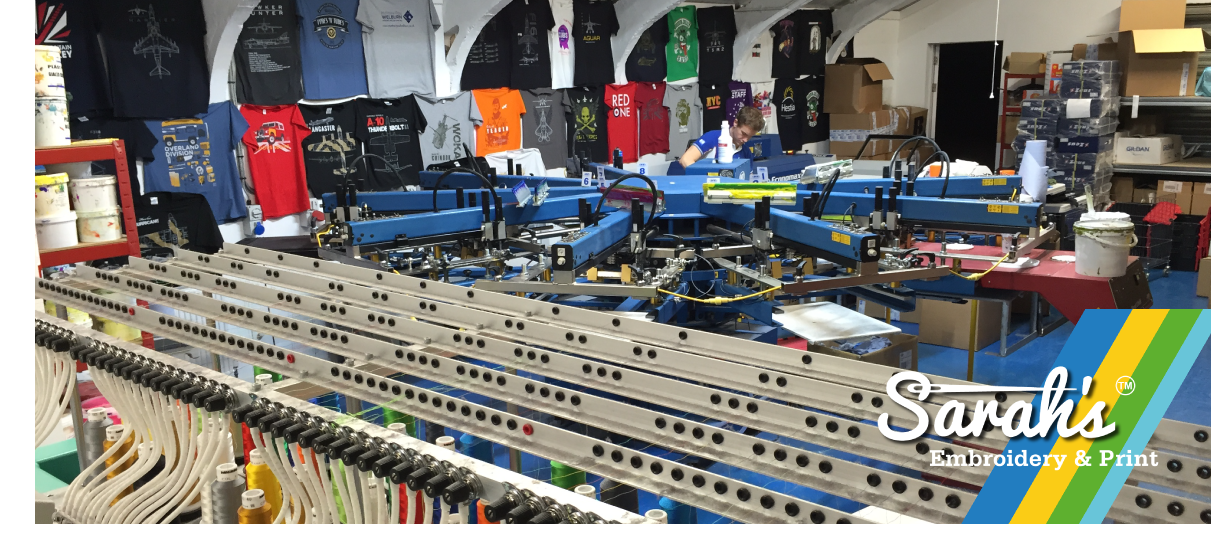 The Workshop / Equipment
One thing is for sure, we only use the very best equipment to help us provide the very best quality of decoration.  Our Embroidery Machines & Printing press are extremely efficient which allows us to provide a competitive price to our customers. We're proud of the product we supply and like to hang these jobs around our walls.
Our workshop team is one of the most flexible groups of people. If you have a crucial deadline to meet, let us know and we will always try to help with that.  Your deadlines are often ours.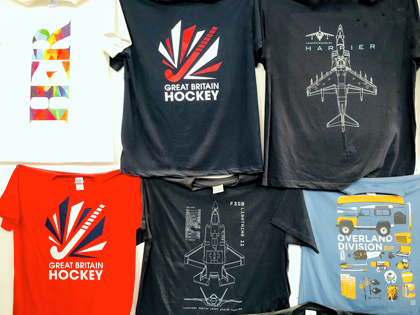 Screen printed t-shirts
If you're looking for the perfect garment for a giveaway or special event, a screen-printed t-shirt could be just the thing you're looking for. Screen-printed designs work amazingly for promotional goods, because they make an impact. If you're planning on giving a garment away as part of a promotion, then you probably want your logo to be as visible as possible lest you waste an opportunity to get your brand out there. For a big, bold and beautifully colourful design -screen printing is the perfect choice.
Screen printed t-shirts are popular for giveaways, events, or anything that requires a large run because of their budget-friendliness. Unlike embroidery (which is great too), screen printing produces large designs quickly and at a low cost -brilliant if you want your branding to be visible from a distance.
Screen printing operates on a sliding cost scale so works out cheaper the more you order, and t-shirts are some of the cheaper garments you can buy, making them perfect if you want to get attention without breaking the bank. T-shirts are also available in a huge variety of colours and styles, from bright neon to subtle shades and can often be bought in male/female and also junior fits, so keeping all your custom screen printed shirts matching isn't an issue. 
Printed t-shirts are not just great for promotional wear either, they are also perfect if you're looking for a casual look for your branded workwear or want to include a large custom design as part of your uniform. Maybe you run a children's play centre and want a big screen printed logo to give a cheerful look and also reassure families by making staff easily spottable, or you already have an embroidered logo but would like something bigger on the back of your shirt, or maybe you just want something a bit different to stand apart from the crowd -a screen printed t-shirt could just right.

What makes a good personalised embroidered clothing company?
Quick and simple reasons to choose Sarah's Embroidery
Other than that we're amazing, of course.
We keep our work in house. If you place an order with us you can rest assured that it will actually be completed by us. This may sound odd but it's not unheard of for companies to outsource a little (or a lot) of their work, meaning that your actual embroidery or screen print may be done by someone else entirely. This can slow your order's progress, add to the cost and give you differing quality results. By keeping our work in house we are able to keep costs low and ensure the quality of your order every time.
We give you options. Sarah's Embroidery offer both embroidery and screen print allowing you to choose the best option for your needs. You won't find us pushing you into an embroidered design if you had your heart set on screen printing, or vice versa (although we are on hand to give advice if you want it).
We offer lots of garments. There's no "one size fits all" with us –which is why we offer such a wide range of garments to suit everyone's needs. You won't need to settle for second best or "good enough", if it's not perfect then we're not happy, so whether you want a custom polo with a pocket, a hoody with a zip or a t-shirt in that perfect shade of green, we can help.
We'll always be upfront with you. You won't find us giving you the run-around if you ring about your order. We know that nobody wants to feel they are being messed around or lied to so we'll always keep you informed of your order's progress and when you can expect to receive it. If a problem arises with your order we'll let you know right away and give you all your options with how to go ahead.
And finally…We love our work. Whilst it's true there may be dark days when work is piling up and we're feeling a little gloomy, but most of the time we love what we do. Not only does our cheery mood help us, it also makes our work that little bit better. We're firm believers that enjoying your job makes you better at it, so our passion for all things embroidery means better results for you.
Workwear

Check out our Workwear section for everything from Safety Boots through to Office Wear. Also including a large range of Hi-Vis.

Aprons

Up there with Polo Shirts, Aprons are probably the next most popular item we personalise. These can be printed or embroidered. Take a look!

Polo Shirts

One of the most popular items we sell and personalise is a Polo Shirt. As you would expect, we have a huge range of these from a variety of suppliers. Take a look!

Hi-Vis

Hi-Visibility clothing is becoming an ever increasing necessity in the workplace. We stock and supply a range of Hi-Vis from a variety of suppliers. Take a look!